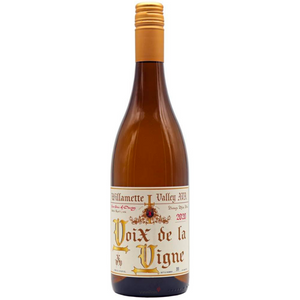 Voix de la Vigne Pinot Gris
Regular price
Sale price
$22
---
VinePals Staff
Top Pick!
Calling All Porch Pounders!
Let's face it… everyone needs inexpensive whites to uncontrollably crush while enjoying the summer heat. And when it's 100+ degrees in the shade over the coming months, you're gonna want something super delicious to quench your thirst and cool you from the inside out.
Enter Voix de la Vigne Pinot Gris; a killer Great White from the slopes of Oregon that delivers on both the palate and the wallet. Pinot Gris can sometimes get lost in the white wine proverbial shuffle, but we're here to tell you there's a big fish on the line and it's time you reel it in!
YES PLEASE!
Y'all jumped at their under-the-radar gem of a Cab Franc, so when they offered up this to combat those hot days that are just around the corner, we knew we had to dive in and see what all the fuss was about! Finding great fruit and a stellar price is what this producer does best, and we've set this price to move to prove our illustrious point!
A mouthwatering mouthful of aromatic citrus fruits, yellow peach, and layers of minerals, all backed by round flavors of honeyed peach, lemon curd and Bosc pear that tickle the tongue and have you coming back for more. Aromatically sublime, this is the perfect poolside companion for days that need simple answers to life's eternal questions. Talk about chumming the water… just grab a few bottles, throw them in a cooler and watch your guests swarm with a serious liquid appetite. We can see you sipping right out of the bottle while taking a cruise on that new unicorn floatie you've been dying to break in! And you look good!
Whole-cluster pressed fruit adds some energetic lift, while also making sure there's ample fruit to make sure you'll be licking your lips 'til you see the bottom of the bottle. Crafted to express the elegance and finesse of old world charm, this is a low booze option you can imbibe with ease from dawn til dusk.
Did we mention how downright crushable and gulpable (yes, it's a word) this wine is?!?!?This is our kind of deep dive into unchartered waters, and we know you'll love it too. It's just that damn good!
Trust us… You're gonna need a bigger boat!
---