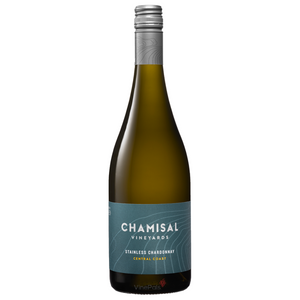 Chamisal Vineyards Central Coast Chardonnay 2020
Regular price
Sale price
$19
---
Central Coast Chardonnay for a pittance!


Chamisal has been a key figure on the California block since 1973, and they've been making waves since the beginning with their fresh and lively Chardonnay that pierces with acidity and over delivers on flavor.
They were the first to plant vineyards in the Edna Valley, and their home nestled five miles in from the Pacific Ocean is the perfect place for growing spectacular fruit with coastal energy and California soul.
That proximity to the ocean allows for longer hang time on the vines, and thus the fruit develops a powerful complexity rarely seen in Chardonnay at this price point. What makes it even better is there is not a trace of oak in sight.
That's right… this is pure, unadulterated Chardonnay that's aged in stainless steel, giving this a crisp and mineral-laden edge that is simply intoxicating from first sip to last. The calcareous, clay-rich soils add depth and personality, which has been lovingly named "Chamisal Spice" over the years.
Clean and vibrant layers of fruit kick off the party in high gear, with notes of Granny Smith apples, lime zest, passion fruit, chalk, and white flowers leading the charge. The keen acidity pierces through the palate, yet the wine still possesses a loving opulence without the influence of oak. A bright and energetic finish is backed by waves of citrus and hints of salinity that make this an absolute pleasure to imbibe. 
We love Chardonnay ripe with acidity! It's a classic nod to the old world, and more importantly, there's something just downright special when a wine is this crushable!
Quintessential California Chardonnay full of verve and character, this is an absolute must for those seeking to discover the true essence of California in a glass.
Soak up the sun and scoop up a few bottles.
You'll be happy you did.

Wine Enthusiast


This regional blend (which is mostly from estate fruit) is a stunning deal. Aromas of lemon blossom, mint, lemon verbena and pear carry the nose. The palate begins with salted butter before waves of sharp citrus and herb arise, wrapped in a long, lingering grip of ashy minerality on the finish.