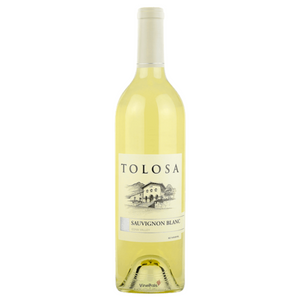 Tolosa Sauvignon Blanc Edna Ranch Vineyard Edna Valley 2018
Regular price
Sale price
$26
---
Steely Estate Sauvignon Blanc for the win!


Tolosa calls the Edna Valley appellation home.
And this under-the-radar AVA situated in San Luis Obispo County could be California's next homerun for Sauvignon Blanc that's perfectly pristine and doesn't break the bank.
Sauvignon Blanc has been impossible to find in the Napa Valley as of late, but it seems our neighbors to the south have their finger on the pulse on the future of California SB, and Tolosa's estate offering is perfect for those who crave this sensational variety in all its glory.
Yellow in the glass with traces of silver and pale green, there is a supremely tropical vibe to the fruit with a stellar underbelly of minerals that make for a superb combination. Aromas of pineapple, grapefruit pith, lime zest, gardenias, bosc pear, hints of grass, and a backbone of acid-laced minerals are just the beginning, while a fresh palate of kiwi, tart pineapple, finger limes, gooseberry, lemongrass and ripe lemons make for a truly refreshing alternative to Napa Valley SB or the old world elixir that comes from across the pond.
And with a tariff south of the $15 border, you might be packing up and flying south for the winter (and the rest of the year for that matter). 
Tolosa is all about balance. They care about the land, believe in being stewards of their ecosystem, and believe in harmonizing all aspects of terroir to achieve balance, depth, and complexity. They do all the little things in both the vineyard and the cellar to make sure the quality is superior beyond words, and yet somehow, they still believe in making sure their product is affordable as well.

If you've never heard of Tolosa and the Edna Valley, now's the perfect time to sit up and take notice. It's still summer here, and we have no doubt you'll find an occasion to get acquainted with what could be your new favorite every day SB.