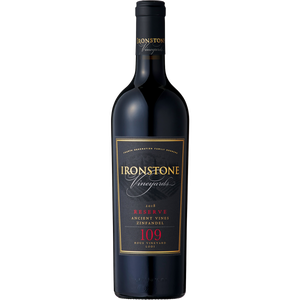 Ironstone Vineyards Reserve 109 Rous Vineyard Ancient Vines Zinfandel
Regular price
Sale price
$45
---
CALLING ALL ZIN FANS!
We've got a special treat for you that's too good to pass up!
There's old vine, and then there's ANCIENT VINES! We're talking over a century here folks, and for those seeking and craving luxurious and bombastic Zinfandel from one of CALIFORNIA'S HOLY GRAILS, look no further than right here!
Ironstone Vineyards has been a mainstay among Lodi's Zinfandel guzzling cognoscenti for quite some time, and the Rous Vineyard is the heralded site that calls this wine home. This Zin paradise landscape is 10-acres of illustrious acres of gnarly, twisted head-trained vines that produce EXCEPTIONALLY CONCENTRATED FRUIT THAT DEFIES LOGIC AND DELIVERS SUPREME QUALITY IN THE GLASS. 
Perfect Zinfandel in every way imaginable, there's nothing quite the opulent BERRYLICIOUS FLAVOR (yes, it's a word!) of what OLD VINES DELIVER! Multidimensional aromas of wild blackberries, mulberries, clove, creme brulee and caramel lead into a DECADENT MOUTHFUL loaded with dark berries, sweet vanilla and well rounded tannins that COAT THE PALATE AND OVERWHELM THE SENSES! The finish lingers for what seems like an eternity, leaving waves of dark fruit in its glorious wake. 
Multidimensional in aromas and flavors, this GENEROUS AND RICH ZINFANDEL offers plush aromas and flavors of ripe blackberries, brown spices, clove, caramel and slight vanilla, finishing with well-rounded tannins and a lingering dark fruit finish. Prehistoric soils of sand and loam make for the perfect bed for these roots to thrive underground, and you can TASTE THE HISTORY WITH EVERY SIP. 
Summer is here, and there's really nothing like grilling something stellar on the BBQ and uncorking and drinking a PALATE COATING CLASSIC ZIN WITH ALL THE TRIMMINGS. Throw in an UNBEATABLE PRICE and you've got a show stopping bottle of Ancient Vine Awesomenessl that will wow your friends and please all comers. Given the screaming value of this offer, we'd encourage you to go big and stash a few bottles away for those nights when you don't want to share with anyone! It's ok to be selfish when it tastes this good.
94 points



Among the Best of Zins Anywhere! 



- Wine Casual (v. 2015)



91 points



...amazingly complex on the nose, very refined and interesting to dwell over...good density of dark plum and raspberry...beautifully balanced.



- International Wine Review (v. 2014)


Double Gold

- California Zinfandel Championships (v. 2014)