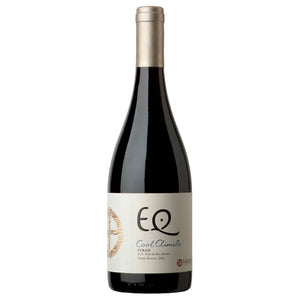 EQ Syrah
Regular price
Sale price
$45
---
SOLD OUT! 
(App Users 👇 Tap "Notify Me" Button)
If we can find more, we will let you know.
or
Browse the Bottle Shop for similar deals!
Punch your ticket… It's time to follow the lines going South.
Way South!
And you're gonna want to bring some hiking gear, 'cuz we're taking your palate on a THRILL RIDE TO THE MISTY MOUNTAINS OF CHILE!
This 95-Point 11-YEAR-OLD SYRAH (yup, you read that right), is priced for the taking and delivers a powerful knockout for anyone looking for intense aromatics mixed with pure palate pleasure. Big, bold and racy to the max, this is a perfectly aged South American stunner that over delivers in every way imaginable, and you're not gonna want to miss getting your hands (and lips) on this beauty. 
Did we mention it scores 95 Points?!?!?!?!?
YES… 11-YEARS-OLD & DRINKING LIKE A CHAMP! The cool climate of the Chilean mountains lends itself to concentrated fruit that punches way above its weight class.We love mountain fruit! There's something truly magical about anything grown at an altitude that makes one's knees weak,  intense surroundings tend to breed greatness, and  the VinePals Team will stop at nothing to bring you liquid greatness from all corners of the world. Once you pop the cork, we bet you won't be able to put it down until you hit the bottom of the bottle. And its yours for$16!!! 
Do the math: 95pts + 11 years of age ➗$16 = IVPV (Incredible VinePals Value!)
Intense violet in your  glass, a sensational symphony of black fruits, purple flowers, black pepper, milk chocolate, and warm earth lead into a succulent and velvety texture full of vibrant fruits, spice and a sultry finish. Perfectly balanced and showing great complexity, with enough age to highlight the magnificence of both the grape and the region. With more time in the glass, layers of graphite, currant and olives interplay beautifully with medleys of cool fruits that seem to go on for days thanks to the racy acidity that pierces the palate. An absolute crowd pleaser for anyone looking to try something truly out-of-the-box in the best of ways.  
Bold, racy, electric energy from the first sip to the last drop! It's hard not to get excited about a wine like this, and honestly, we're kind of shocked we're not keeping it all for ourselves. But we love you, and we do the dirty work for you so all you have to do is SAY YES!
We loved aged wine, and if we're being truthful, something with this much age that's still kicking is super hard to find lying around these days. But thanks to some careful sleuthing by your friends at VinePals and one of those all-in moments that make what we do the best job in the world, we just knew we had to act quickly. Great wines start to really strut their stuff after the 10-year mark, and this one is right in its sweet spot and taking on all comers. Once we found it we knew we (and that means you!) had to have it!
This is one of those moments where you just dive in. A wine that checks all the boxes and brings your entire wine game to mountainous heights! We're looking forward to joining you for the ascent!