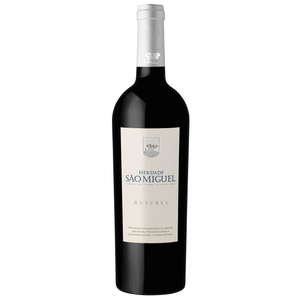 Herdade San Miguel Riserva
Regular price
Sale price
$38
---
Why fly across the world when you can drink your way to Portuguese paradise one luxurious sip at a time?
Don't get us wrong… we'd be on a one-way ticket to the Iberian Peninsula right now if plane tickets weren't astronomical, but that doesn't mean we can't help you transport you and your palate with the click of a button.
Enter the 2018 Herdade de Sao Miguel Reserva: an absolute marvel of a red blend with all the outlandish indigenous grapes that make Portugal, well, Portugal, but with just enough familiar faces to keep things interesting. A blend of Alicante Bouschet, Touriga Nacional, Trincadeira, Cabernet Sauvignon, and other varieties, with an intensely gothic color that delivers a smooth, rich, and dense wine with dark berries and spice, considerable depth, and a super silky texture.
AND ONLY 150 CASES WERE IMPORTED INTO THE US!!!
The fact we're selling this at under $20 makes us think the execs are taking crazy pills, (they're not…)  but they are crazy driven and want to give our loyal customers value in spades and we're here to do their bidding and make you happy. 
And you want to be happy, right?
Freshly crushed blackberries, spiced cherries, slate, black tea, anise, roasted earth and loads of mineral-laced tannins almost make this too good to be true, this has  all the makings of your new favorite red without having to leave the comfort of your couch. Versatile in every way, this wine pairs with any massive hunk of meat you care to throw at it, delivering a ripe, savory and luscious presentation that will have your senses swooning with delight. 
When it comes to value, we're not sure there's a place better than Portugal. Let's be frank, Port has been a pretty serious thing for a few hundred years now, so take that same amazing know-how and decide to produce dry wines full of intensity and rooted in terroir. It's honestly such a simple idea that we still don't understand why it took so long, but boy are we glad they figured it out eventually. And make no mistake, we are taking notice and taking no prisoners in the process. What's even better is that wine is DRINKING MAGNIFICENTLY and has years of life ahead of it. There's no reason not to back up the truck and load up, because we promise once you get into the first bottle, you're gonna wish you had more. And we mean lots more! Throw in some pretty sexy scores and a hefty discount (over 52% off as a reminder), and make no mistake we're handing you a true diamond in the vinous rough. 
Act now and stamp your passport to liquid paradise!