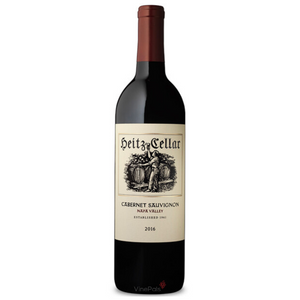 Heitz Cellar Cabernet Sauvignon Napa Valley 2016
Regular price
Sale price
$75
---
Stop the presses!


We've always wanted to say that.
We're a digital company, and though we have a huge love for the printed word, it's never been part of our repertoire.
But that doesn't mean we're not opportunists, and given we have one of Napa Valley's most pedigreed producers available from one of the most revered vintages in quite some time, we felt the time was now to strike while the iron is hot.
And you should too!
Classically produced Napa Cab in all its glory, Heitz Cellar is synonymous with the evolution of Napa Cab as we know it. And for good reason.
They're kind of a big deal, and have been churning out superlative Cabernet for decades, with no desire to change their style for a more modern interpretation.
We love their old school nature, as we're classic Napa fans at heart.
Brimming with loads of red plums, milk chocolate, roasted coffee, spiced cedar, red cherries, wild raspberries, tea leaves, savory herbs, and a juicy finish, this is everything we could want in Napa Cab from a producer that knows how to do it right!
2016 WAS A SUPERB VINTAGE, and this wine has all the goods to cellar for quite some time should you have the patience.
If you don't have the patience, we don't blame you, and fortunately this wine is drinking fabulously right out of the gate too!
A show stopping offer to taste a Napa legend from one of the best vintages we've seen in decades. 
Don't sleep on this classic… especially when we make it this easy to find!

James Suckling


Very polished and refined with plum, light chocolate, coffee and mahogany aromas. Medium-bodied with medium tannins and a savory and juicy finish. Hard not to drink now. Will improve with age. Drink now or hold.
Wine Spectator


A subtle savory edge leads off, followed by enticing rooibos tea, red currant preserve and raspberry coulis flavors. Elegant finish. Drink now through 2026.