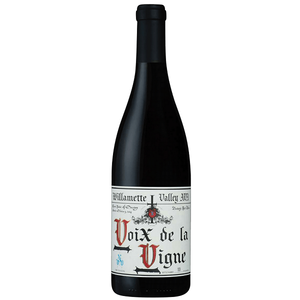 Voix de la Vigne Willamette Pinot Noir 2017
Regular price
Sale price
$28
---
 SOLD OUT! 
(App Users 👇 Tap "Notify Me" Button)
If we can find more, we will let you know.
or

👈 Browse the
Bottle Shop
for similar deals!
Anyone chasing a Burgundian Pinot Fox that calls Willamette Valley home?
It's not easy for many French Pinot fans to track down Pinot Noirs worthy of comparison to their favorite French region. Combinations of soil and climate, along with the often overlooked human craft component of terroir, need to come into balance to result in wines that can proudly wear the Burgundian moniker. Fortunately, Oregon's Willamette Valley is such a place on the Pinot map, and in quiet but very confident fashion, growers and winemakers like the all-star team at Voix de la Vigne in the historic town of Dundee are just that kind of folk, and are proudly carrying Pinot Noir's banner in the Pacific Northwest. 
That two-thirds of Voix de la Vigne's production trio hail from France can only be seen as a blessing to lovers of the Burgundian vine. Laurent Montalieu, founding winemaker at the legendary Willakenzie Estate, partnered with the veteran California distributor Robert Morrison and fellow Frenchman Bruno Corneaux to create this decidedly franco-centric label. The voix (voice in French) they speak with collectively through their 2017 Willamette Valley Pinot Noir evokes a Burgundian sensibility—visually, via its striking label, and in its aromas and flavors, which are nothing short of sublime. 
The winery is juggernaut Bruno Corneaux's laboratory for the exploration of what Willamette Valley vines can offer. A state-of-the-art facility, Voix de la Vigne is artfully juxtaposed with a selection of rustic vineyard sites from five of Oregon's most respected AVAs, that together capture the near-throwback qualities of the Willamette. The fall of 2017 was a parade of hits, culminating in transcendent weather leading into an October that heralded a magnificent harvest.
With opening aromas of cherries, raspberries, plums, and an intriguing note of black tea, there's a delightful freshness of fruit that dances across the '17 Voix de la Vigne's juicy yet elegant palate. Red and black stone fruit flavors come wrapped in a medium-bodied package of smooth, supple tannins, with a savory earthiness. Bright, zippy acidity works seamlessly to lift the vibrant, complex fruit, vanilla, and spice through its long finish. This delicious wine sees no new oak, and its snap and pop of classic Pinot Noir flavors make it entirely worthy of old-world comparisons.
A wine that favors all palates, but will surely please those picky ones in your crew, even if the picky one is the person you see in the mirror daily. Quintessentially perfect Pinot Noir with a little age from a talented trio that is pulling out all the stops and shows no signs of slowing down. 
If you're a true Burghound, you'll pick up this scent in no time!