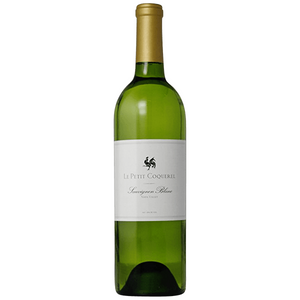 Coquerel Le Petit Coquerel 2020
Regular price
Sale price
$22
---
Comparisons between Napa Valley and Bordeaux come easy for two simple words: Cabernet Sauvignon. Though climatically and even geographically unique from each other, these great wine regions share the king of red grapes as their signature variety. Often overlooked, however, is the fact that a noble white wine grape, Sauvignon Blanc, is another connection between the two places. Since 2006, a French vintner operating at the highest quality levels in Napa Valley has kept pace with her fellow Bordeaux colleagues. Christine Barbe, the head winemaker for Coquerel, has been turning heads in the process with her exquisite Le Petit Coquerel. 
Christine was hired that year by Coquerel's well-traveled owners, Brenda and Clay Cockerell, to continue to work the magic she'd discovered as a PhD winemaking student at the University of Bordeaux. Having jumped successfully from theory to practice on how to vinify world-class Sauvignon Blanc at top Bordeaux Châteaux Carbonnieux and La Louvière, the intrepid vintner decided to come to Napa Valley to accomplish the same. No less a wine personality than Robert Mondavi recognized her mastery when he offered a job, and the rest is an unfolding history of the potential for Coquerel Sauvignon Blanc to practically define the category in California. 
It's no accident that the Cockerells compare their winemaker's Sauvignon Blancs to those of another description-defying Bordeaux house, the legendary Château Haut-Brion. One of France's most sought-after white wines, the grand vin produced at Haut-Brion is the Cockerells' template for their own bottling. Judging by the attention Le Petit Coquerel has received from Robert Parker's Wine Advocate, putting Sauvignon Blanc in the bottle that hits the same flavor and ageability notes as Haut-Brion—and for a tiny fraction of the price. 
Le Petit Coquerel is an elegant counterpoint to many of the heavier fruit bombs that personify its Napa Valley Sauvignon Blancs. Complex, floral aromas of guava and grapefruit jump out of the glass, backed by ripe fig and a sweet note of honeyed melon. This fresh and delicious wine pleases all, fruity and rich, but also quite crisp and dry, with a medium-bodied and very classy texture. 
Those seeking high quality SB that defines everything we love about the French style with a little California Love thrown in must take note. 
The best of both worlds is at your fingertips!