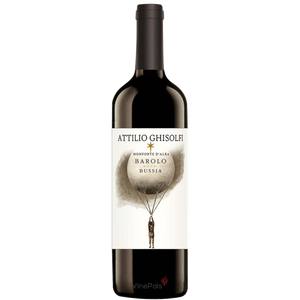 Attilio Ghisolfi Barolo Bussia 2017
Regular price
Sale price
$79
---
There was no way
we were gonna get through the first week without offering
a top-tier Barolo, the undisputed King of red wine grapes in all of Italy.
 The VinePals team found a shining example of Piedmont excellence that's ripe for the taking. From us to you so to speak…
Attilio Ghisolfi put down his roots in Cru Bussia over 30+ years ago, and ever since, he's been making strides to becoming
one of the most respected and loved producers of the region.
His wines evoke a traditional style, full of power and precision, with hints of modern flair that excite the palate and conjure emotions from the depths of one's soul. And with neighbors the likes of Conterno, Giacosa, Parusso, Ceretto and more, it is  no wonder the fruit from this heralded Cru in the right hands is the stuff Dionysus dreamt about.
Nebbiolo is affectionately referred to as the King of Grapes in Italy
, thriving in regions where fog lingers throughout the landscape, which helps keep natural acidity at its peak while producing supreme tension in the fruit. Once you dip your toes into the Nebbiolo waters, you may never return, for it is truly the most remarkable grape on this 3rd rock from the son. And with top scores from the likes of
Spectator
,
Enthusiast
& Suckling himself (95/94/94 to be exact), this is one for the cellar if you have the patience to wait for greatness to evolve. If for some reason you simply can't wait, 2017 produced ripe fruit that is simply exquisite in its youth, so while days of vinous lore are surely ahead, there's no reason not to crown yourself now and enjoy the royal liquid jubilee if your heart desires.
A royal feast of aromas of flavors sets the stage as soon as you pop the cork, with endless garnet waves culminating in a vibrant liquid symphony that cascades into the glass and captivates the senses from the word go. Ripe berries, savory herbs, forest floor, rose petals, candied orange peel, tar and pipe tobacco present a perfectly poised Barolo ready to anoint itself as the leader of the land, only to be followed by a palate full of spiced red fruits, elegant structure and fine-grained tannins that frame what will turn out to be one of the truly iconic wines of the vintage.
With
only 200 cases to land stateside
with a discount that's too good to be true, this is Cru Barolo of the highest order; worthy of a king one might say, and it's an absolute must for those looking  to  add exceptional power to their cellar; A wine with truly generational staying power.
Long live the King.