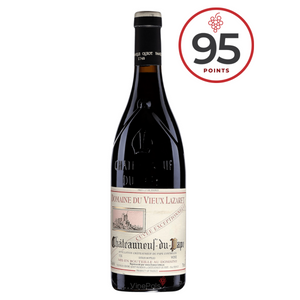 Domaine du Vieux Lazaret Cuvée Exceptionnelle Châteauneuf-du-Pape 2016
Regular price
Sale price
$75
---
SOLD OUT! 
(App Users 👇 Tap "Notify Me" Button)
If we can find more, we will let you know.
or

👈 Browse the
Bottle Shop
for similar deals!
One of the most unique estates in Châteauneuf-du-Pape.
225 acres of gorgeous southern Rhöne soil split by 35 different parcels. 
And 95 Points from James Sucking and 93 Points from Spectator.
Such vast land holdings allows Domaine du Vieux Lazaret to give greater complexity to all of their wines, as they pull the best fruit from every one of their individual parcels to build the best wine they can. An array of diverse soils and differing age of vines make for a wonderful tool kit to play with, and though Grenache drives the bus here, throwing in a little Syrah and Mourvedre create a complex and sophisticated blend that exemplifies what we love about this region.
All fruit is harvested by hand, and the end result is a wine that showcases the best of CDP with some serious credibility and pedigree behind it.
The 2016 is a thing of beauty, as a deep garnet coats the glass, while abundant notes of spiced cherries, warm plums, blueberry pie, dried violets, rose petals, river stones and garrigue lead into a long and succulent mid-palate with a rounded and polished finish. Length and elegance rule the kingdom on this royal offering, and given the spectacular nature of the 2016 vintage, this wine has a few years of age to soften the entry yet still packs quite a formidable punch. 
CDP is a region we simply can't get enough of, as the old world style of Grencahe mixed with new world tendencies and abundant golden heat produce fruit that is rich, ripe and ready to guzzle. There is a fine line between good CDP and great CDP, and make no mistake, this is CLASSICALLY GREAT CDP with all the makings of a wine that can go the distance and over delivers on the palate both now and in the future. Throw in the fact we're offering it at a screaming deal, and this is old world perfection built for a new world mindset.
Big scores, a classic offering and the best price in the galaxy.


James Suckling
A complex and surprisingly youthful Chateauneuf with savory, minty and peppery notes, as well as damson plums. Impressive tannin structure within the rich body, the lively acidity giving the long, focused finish a lot of drive. Excellent aging potential. Drink or hold.
Wine Spectator
Offers a forward display of enticing raspberry and boysenberry confiture notes laced with warm anise, black tea and incense. Features a late echo of warm fruitcake. Grenache, Syrah and Mourvèdre. Drink now through 2034.