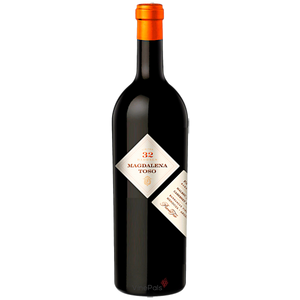 Pascual Toso Magdalena 2018
Regular price
Sale price
$140
---
Single Bottle Price Displayed and Available
(Each 6 Bottle Purchase Includes Wood Box)
*Also, each bottle is individually wrapped.

- Robert Parker's Wine Advocate


Paul Hobbs is one of the greatest winemakers to ever grace this planet, and he has delivered a monster in waiting.
And we're about to let it out of its cage and it's set to roam free!
The 2018 Pascual Toso Magdalena is a gothic beast from the mountains of Mendoza, Argentina. A true force to be reckoned with in fact, as its midnight purple hue erupts from bottled slumber and canvases everything in its wake. Paul Hobbs' talents are on full display, showing complete harmony of color, aroma, flavor, texture, and taste in a decadent South American package. After all, he's one of the true winemaking legends of all time, so this should come at no surprise that he's set forth an absolute legend in the making. 
And it's yours for the taking!
2018 was a spectacular vintage, and this wine is believed to be the best the winery has ever produced. We're suckers for exceptional Malbec, and when blended with sensational Cabernet Sauvignon, and Paul Hobbs at the helm, the result is nothing short of spectacular.
Drenched with aromas of red plums, boysenberry cobbler, figs, raspberry, chocolate shavings, wild sage, crushed stones, sweet vanilla and dried violets, the palate is smooth, hedonistic and opulent, with a thin veil of acidity piercing through the mid-palate highlighting the pedigree of the fruit and the high-altitude terrain that it calls home. 

Only 650 cases of this wine were produced, and Paul picked his 26 best barrels and brought them to the party in typical masterpiece fashion. An elegant offering where force meets finesse, this is pure unbridled force in liquid form, and we have no doubt you'll be enthralled with every sip.
Paull Hobbs, 93 Points from Robert Parker and a liquid marvel of Mendoza magnificence.
Grab your torches, rally the villagers and set out on the hunt!