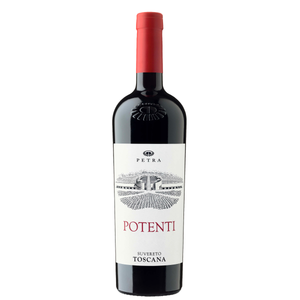 Petra Toscana Rosso Potenti 2017
Regular price
Sale price
$57
---
SOLD OUT! 
(App Users 👇 Tap "Notify Me" Button)
If we can find more, we will let you know.
or
Browse the Bottle Shop for similar deals!
Super Tuscan fans are about to have their minds blown!
And are about to save a ton of money too!
No need for Sangiovese here… this is 100% Cabernet from the rolling, sundrenched hills of Tuscany that's about to steal the spotlight for your new weeknight Italian favorite.
A big and gothic crimson beauty, the 2017 Petra Potenti doesn't hold back and is sure to have you dreaming of wandering the Italian landscape with a glass of this gorgeous red in hand. Bright red fruits drip from the glass, with layers of dried rose petals, currants, sage, hints of tar, and spiced cedar lead into an expressive Italian red that over delivers on both the palate and your wallet.
Cabernet from Tuscany is one of those things we just can't get enough of, and when it's done right, it's the perfect reminder that Italy has been making stellar wines for hundreds of years and you need to pay attention. Napa Cab may be right in our backyard, but there's something to be said for that old-world style that still delivers ripe and robust Cabernet that tickles us in all the right places. 
While writing this missive, this wine has been in our glasses for the last few hours, and it just keeps getting better and better with time. The eruptive aromas have been permeating the office and admittedly my colleague stopped and did a double-take as he walked past my desk. 
It's simply intoxicating and will grab your attention and has no intention of letting go. It's just the kind of juice we think you desperately need, and know you'll be smitten the minute you pop the cork. Tuesday night pizza, Thursday night bolognese or Sunday night family feast… this Cab goes with anything and everything you care to throw at it, and will happily push back in the best of ways.
Press go, drink up and drink well.
You can thank us later.