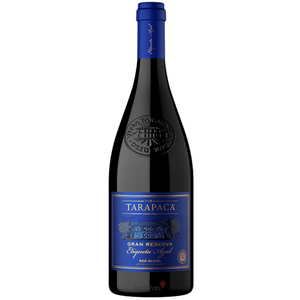 Viña Tarapacá Gran Reserva Etiqueta Azul 2020
Regular price
$57
Sale price
$30
---
If you don't know Chilean wine, you're about to get a crash course with one single bottle.
Viña Tarapacá is celebrating 145 years of South American viticulture excellence and tradition.
Let that sink in for a second.
145 years.
Their Tarapacá estate is a vinous Eden beyond comprehension, and is bordered by the River Maipo while also being surrounded by the Andes mountains. The classic Mediterranean climate produces fruit full of ripe flavors, exquisite concentration and supreme sophistication. 
And the 2020 Gran Reserva Etiqueta Azul just happened to win Best in Show at Decanter Magazine's 2022 World Wine Awards. 
It's not every day that your easy drinking South American stunner beats out some of the usual suspects from both the old and new world, but Viña Tarapacá's exceptional 2020 Gran Reserva Etiqueta Azul (which translates Blue Label in English), happens to be a wine that you must take note of if you have any interest in the sheer joy of new discovery.
A ripe and polished nose of ripe berries, plums, currants, wet minerals, forest floor, and spice melds effortlessly with a round palate backed by spine tingling acidity, a hallmark trait of wines born at altitude. Layers of blackberries, cured meats, and spiced cedar round out a smooth and sensual finish, finishing clean with fabulous power and grace.

This wine happens to be a fan favorite around these parts, as we have a soft spot for this exceptional producer with pedigree for days. We can't really explain how or why… all we can say is we love Viña Tarapacá and we know you'll love it too.
Follow the lines going south and enjoy the ride!
Decanter Magazine
- World Wine Awards -
Best In Show

A top-end Red Blend that is a perfect combination of the finest plots from the Maipo Valley. Crafted using the highest-quality grapes, giving for a unique personality with each vintage and the best expression of the Maipo Valley terroir.