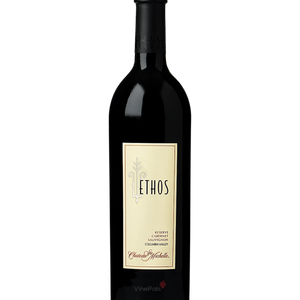 Chateau Ste. Michelle Cabernet Sauvignon Ethos Reserve Columbia Valley
Regular price
Sale price
$35
---
Do you believe in the spirit of Cabernet?
For some, Cabernet is everything. There is nothing else when it comes to wine.
And given we have roots in Napa Valley, and that famed grape has had quite the role in putting us on the map, we don't disagree with that sentiment. 
But not all great Cab has to be from our hood, and today's offer channels the beauty of Washington's Columbia Valley without compromising anything.
The 2017 Ethos Reserve is full of remarkable finesse and purity, with layers of concentration from the first sip to the last. Chateau Ste. Michelle has been crushing the Cab universe for quite some time, and their liquid window into the soul of the Columbia Valley AVA is a striking example of their talents.
Dark cherries, cassis, warm earth, blackberry pie, wet minerals, and spiced cedar all meld together in fabulous harmony, with a cool decadence emerging from the glass with every few minutes of air. Notes of tobacco, saddle leather, roasted coffee, dark chocolate nibs and vanilla cream also play a role, and continue to evolve reinforcing the pedigree of the fruit and craftsmanship in the cellar. Throw in a few solid nods from Suckling and the Enthusiast, and we're pretty sure you've found something truly special with this bottle of Washington liquid soul.
Great Cabernet Isn't necessarily hard to find, but value-drive Cabernet is a thing of the past unless you know where to look. Our friends to the north continue to churn out superlative Cabernet and yet the price continues to be accessible for all. And Chateau Ste. Michelle is one of the true leaders of Washington, and quite possibly the wine world as a whole.
And for $35, this is a deep dive into the soul of Cabernet for those that love it most.
Their pioneering spirit lives on in every bottle they make, and their Ethos Reserve is one that channels that spirit with ease and leaves nothing but pleasure in its wake.
James Suckling
Concentrated aromas of leather, blackberry and tobacco. Full-bodied with tight tannins. Focused. Rich black and red-fruit core with a pleasant, earthy finish. 97% cabernet sauvignon and 3% syrah. Drink or hold.
Wine Enthusiast
The aromas announce themselves, with notes of coffee, bittersweet chocolate, vanilla and black cherry, with fruit and barrel intertwining. The palate is sharply etched with dark-fruit flavors, and there are plentiful oak accents.