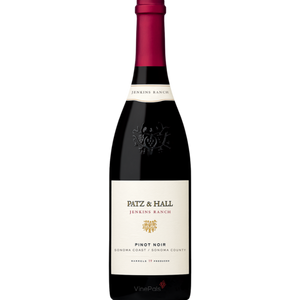 Patz & Hall Jenkins Ranch Pinot Noir Sonoma Coast 2017
Regular price
Sale price
$57
---
SOLD OUT! 
(App Users 👇 Tap "Notify Me" Button)
If we can find more, we will let you know.
or
Browse the Bottle Shop for similar deals!




There's Pinot Noir.
And then there's single vineyard Pinot Noir.
And then there's Jenkins Rach single vineyard Pinot Noir!
Acclaimed producer Patz & Hall wrote the book on California Pinot Noir, and they continue to put out wines that exemplify everything Pinot lovers crave when it comes to their Sonoma Coast California crush.
Transparency has always been a hallmark of Patz & Hall, which is why we love their single-vineyard offerings so much! They put 1000% into the site itself, and there's no grape better at channeling the soul of a specific place better than Pinot Noir.
Located in the hills to the southwest of Sebastopol on perfect Gold Ridge Loam soils, the Jenkins Ranch is lovingly farmed by the master vineyardist Charlie Chenoweth, and you can taste the love he puts into his work with every sip.
Crushed raspberries, blueberries, dried orange peel, sea spray, black tea, wet earth, forest floor, spiced cloves and hints of rhubarb pie showcase Pinot Noir in pure and pristine form. Hints of white pepper play in the background, adding depth and nuance to an already stellar wine. Densely focused fruit lingers on the palate, and tannins are sensual and sophisticated,  reinforcing the pedigree of the vineyard and the work in the cellar. This is a deeply flavorful and complex wine that delivers all the goods in the glass.
And a HUGE 95 POINT SCORE from Virginia Boone at Wine Enthusiast only sweetens the deal. I mean, you need a critic to tell you what you love and what's great, but a little extra affirmation never hurts anybody.
One of the best California Pinots of the vintage, this is top tier juice from some of California's greatest single vineyard champions. 
See you in the winner's circle.
Wine Enthusiast

A perennial standout in the producer's line-up of vineyard-designates, this wine is lovely, complex and textured. Black tea, forest floor, clove and rhubarb keep it savory and earthy in the glass, while robust and refined tannin, a length of white pepper are there at its finish.

- Virginie Boone