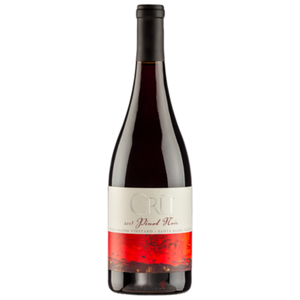 Cru Grand Collection Sierra Madre Vineyard Pinot Noir Santa Maria Valley 2018
Regular price
Sale price
$49
---



Sweet and savory Pinot Noir from California's Santa Maria Valley.
Mmmmmmmmmmmmmmmmmmmmmmmmmm…
From the iconic Sierra Madre Vineyard, Cru's 2018 Grand Collection is a ruby liquid velvet ruby slipper that has true legend in the making potential. California Pinot fans who love big and rich renditions of this varietal must heed our call here, as this is a not-to-be-missed offering of California seduction that's got your name written all over it.
Dark cherry leads the way, with underlying notes of raspberry pie, cherry cobbler, dried rose petals, wild herbs, toasted nuts, sweet coconut and spiced vanilla that make for an absolute decadent imbibing experience. It's all about pure palate pleasure here, as the golden California sunshine did its job and helped ripe the fruit to perfection.
It's just so downright deliciously delectable! We've been passing the bottle around the office for the last few hours, and admittedly, we had to crack into a second one. It's research in the end, but sometimes you're just in the mood for big, ripe and slutty Pinot Noir, and apparently, today is that day!
There's gold in them thar hills… crimson liquid rubies from a single vineyard that has been a mainstay among the California Pinot landscape for quite some time, and we're certain you're gonna love every single sip of this once you pop the cork. 
Santa Maria Valley's Sierra Madre vineyard is a truly special plot of dirt, and we're wrangled just enough for an offer and now that treasure is ripe for the taking.
Tell 'em Bogey and John Huston sent you.
Wine Enthusiast

Plump aromas of Bing cherry, hibiscus and cinnamon are opulent and creamy on the nose of this single-vineyard expression. The palate offers very pleasing flavors of cranberry and tart red plum, with elegant hints of thyme.