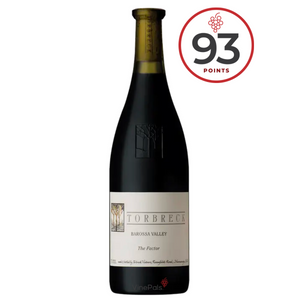 Torbreck The Factor Shiraz Barossa Valley 2017
Regular price
Sale price
$120
---
SOLD OUT! 
(App Users 👇 Tap "Notify Me" Button)
If we can find more, we will let you know.
or

👈 Browse the
Bottle Shop
for similar deals!
TORBRECK HAS ARRIVED!!!!!


And it's pure Down Under Thunder!!! 
The 2017 Factor is a shining example of Aussie greatness, reminding us how the Barossa continues to churn out superb juice amidst the belief that Australia is done.
Let us clear up the record.
They are most certainly not done. And Torbreck is one of the stellar producers showcasing that greatness from the southern hemisphere is not only still here but has never stopped!
And BIG SCORES from a few people you may have heard about doesn't hurt either. 
The Factor (amazing name for a wine if we do say so ourselves) is predominantly from the Gomersol and Marananga sub-regions of the Barossa Valley, and brings a dense and gothic vibe and texture to the party. Bombastic notes of blackberries, olives, pepper, spiced cedar, roasted espresso, blueberries, herbs and hints of purple flowers, this is a densely packed offering that's sure to stimulate the senses and tickle your tastebuds. The wine opens beautifully with time in the glass, exposing an underbelly of minerals and layers of leather, orange zest, tobacco, and warm stones that blend effortlessly into the entire experience.

A wine definitely built for the long haul, this has got serious cellar potential written all over it should you have the patience, and we'd say grab a few bottles and make sure to put a few in a dark corner and forget about so you see what we're talking about. 
96 Points from Sucking, 94 from Galloni & 93 from Enthusiast! A stellar and scintillating tro of serious support from three outlets that know what they're talking about! 
We love Shiraz from the Barossa Valley, and especially when it's Torbreck Shiraz!!! It's so stinking good and we simply can't get enough of it! We probably even grabbed extra juice so we can stash away some for ourselves. 
Stamp your passport and transport your palate to the other side of the world! 


Wine Enthusiast 
From a cooler year, this wine wears the vintage conditions most transparently. Waves of aromas wash to shore: plum, currant, licorice, mocha, warm stones and baking spices. The oak and alcohol aren't completely invisible, but vineyard character and fruit purity take center stage. Juicy berries, warm spices and firm, powdery tannins abound. Drink now–2040.