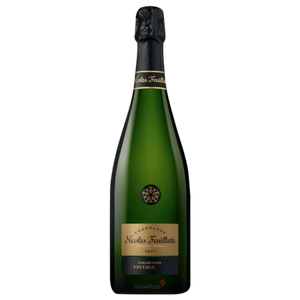 Nicolas Feuillatte Champagne Brut Vintage Collection 2009
Regular price
Sale price
$60
---
SOLD OUT! 
(App Users 👇 Tap "Notify Me" Button)
If we can find more, we will let you know.
or
Browse the Bottle Shop for similar deals!


Bubbles, Bubbles & More Bubbles!
2009 bubbles to be exact!
These days, it seems bubbles are on a trajectory to infinity and beyond, and we're lightyears ahead of everyone when it comes to finding interstellar bubbles at a price worth exploring the universe to find.
People just can't get enough of them, and when we're talking about vintage Champagne, it seems as if there's never enough to go around and some wines (we're talking to you Krug) are just impossible to locate.
But we dug down deep and found a sensational (and affordable!) offering from a killer 2009 vintage from none other than acclaimed producer Nicolas Feuillatte!
Energetic as the day is long, the deep and intense structure of this wine leaps out of the glass with an array of yellow fruits (citrus and stone fruits to be exact), golden plums, honeyed apricots and hints of pastry lead into a succulent texture full of life and brimming with nerve that can only come from vintage Champagne!
The aromas just linger on for what seems like eternity, with a majestic personality, reinforced by exquisite character and nuance on the palate. The intensity and power of the Pinot Meunier is really what stands out, with underlying notes of Pinot and Chardonnay playing wonderfully together. The simple beauty of the 2009 vintage is on full display, and this heralded producer has delivered another sparkling gem for the ages. 
We don't really care what you pair it with, because in our opinion, Champagne pairs with everything! And nothing! It's perfect by itself, and in true decadent fashion, what's better than imbibing a bottle of vintage Champagne with nothing else simply because you can!
A perfect accompaniment to everyday life, drink in the bubbles and enjoy the ride!
James Suckling

Lovely ripe fruit with spiced pears and hints of ripe apples. Full-bodied. Lots of fruit with tangy undertones to the dense and compact palate. Gingerbread. Some phenolic or tannin influence.
Wine Spectator

Racy acidity drives finely meshed flavors of crushed cherry and dried apricot fruit, with rich hints of marzipan and lemon curd on the creamy mousse. Zesty finish.