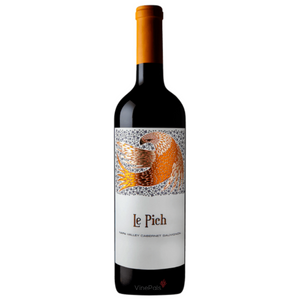 Le Pich Cabernet Sauvignon Napa Valley 2018
Regular price
Sale price
$55
---
Winemaker Julien Fayard's name has been taking flight as of late, and his talents are recognized far across the wine world as one of the great winemakers today..

Le Pich, the sister label of his mainstay Purlieu, gets its name from a Wappo Indian term meaning "golden eagle." The Wappo Tribe were native to the Napa Valley, so this offering is a tribute to both their heritage and the heritage of Napa Valley itself. The golden eagle happens to be a mainstay in these parts, and you see them soar above the vineyards looking down on each of us, searching for prey.
And if you're smart, you'll prey on today's offer like the Cab predator you are.
An absolutely stunning wine, the 2018 Le Pich is everything Cab fans want from their favorite AVA. Ripe plums, dark cherries, spiced mocha, loads of cassis, hints of anise, sweet tobacco and dried purple flowers make for a truly intoxicating offering, with a concentrated mid-palate and lingering tannins that deliver a hedonistic finish to an already scintillating experience.
And it's a stellar value if we do say so ourselves.
Think about it. Julien's other label, Purlieu, sources fruit from some of the best vineyards in Napa Valley, many of which happen to be owned by the legendary Andy Beckstoffer. And Andy doesn't sell his fruit to just anyone. The Purlieu wines go for north of $200, so grabbing this bird of prey for $X is downright larceny.
It's time to let your palate take flight and soar with the eagles.
Vinous
The 2018 Cabernet Sauvignon Le Pich is absolutely gorgeous. Ripe, plummy and so enticing, the 2018 offers tremendous appeal and tons of pure pleasure. Dark cherry, plum, mocha, spice and licorice are nicely pushed forward in this gorgeous, mid-weight Cabernet Sauvignon from Julien Fayard. Best of all, the 2018 is a terrific value.