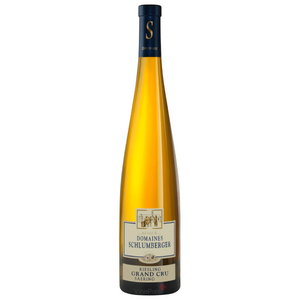 Domaines Schlumberger Riesling Saering Grand Cru Alsace 2019
Regular price
Sale price
$45
---

Domaine Schlumberger is the largest Grand Cru producer in Alsace.
All wines are estate grown, with 75% of the fruit planted on steep slopes that make our knees shake and our brow sweat just thinking about them. Terraced slopes require horses for fieldwork, and all grapes are harvested by hand in baskets.
It's as old school as it gets.
With a single holding of more than 330 acres, they manage to put quality at the top of the list. Yields are exceptionally low, and they only make half the production they are allowed because they believe any more and they'll sacrifice the greatness of the fruit.
Talk about bigger isn't always better.
The Saering plot was established in the year 1250. Perched around 1,000 feet above sea level, it flows off the steep slopes and extends like a peninsula while facing east and southeast. Searing marl (a mix of silt, sand, calcium carbonate, and clay), limestone, and sandstone provide a wonderful trio of terroir that brings out the true beauty of this exceptional Grand Cru Riesling.
A viscous golden blanket with tinges of fluorescent green brings a bright intensity that imposes its will on your gaze. You can try to look away, but you won't be able to. A youthful nose of mandarin, lemon zest, candied orange peel, white flowers, flint, ginger, and hints of petrol are backed by minerals, yuzu, salinity, chalk and lime custard. Impeccably balanced, this Grand Cru stunner highlights the soil that it is grown in, showcasing the greatness of both the producer and the vineyard with every sip.
It's a true marvel in the glass and we might drink it all before you can get your hands on any.
Perfectly pristine Riesling from one of the oldest slopes on the planet.

Wine & Spirits

Racy, ricey and rich in yellow fruit, from apple to plum to lemon, this is a clean, linear riesling with talc-like minerality keeping it tightly focused. It's youthful and needs bottle age to develop its breadth of flavor.