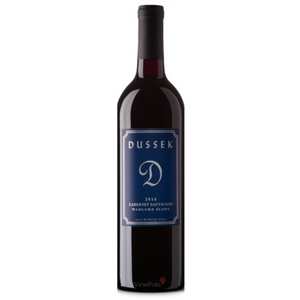 Dussek Family Cellars Cabernet Sauvignon 2016
Regular price
Sale price
$19
---
A Washington State Wunderkind Cabernet for less than $20!
ABSOLUTELY!
We really just can't help ourselves when we find something so stupendously delicious for a pittance! Grown on the famed Wahluke Slope AVA (it actually sits in part of the Columbia Valley as well), the 2016 Dussek Cabernet Sauvignon is in contention for the Cabernet crown! This ripe and raucous Cabernet crushes anything you're gonna find at twice the price! What's even better is that this fruit is sourced from the Rosebud Vineyard, one of the premiere sites in the appellation known for its warm, dry climate that produces high-octane fruit that is supremely concentrated and only the best producers get their hands on it.
The vineyard must be stellar as it's a legitimate who's who of Washington state stalwarts that scoop up this fruit including Va Piano, Seven Falls, and the infamously legendary K Vintners own Charles Smith! You can't write the history of wine without mentioning those names, and we've grabbed a little secret winery that could give them all a run for their money.
But wait… did we say under $20? Yes, you read that right, 'cuz here at VinePals, we make saying yes to great wine as easy as possible. No reason to complicate matters of the vinous heart, and why would we? That bottle screams excellence so we squeezed a few more bucks out of the supplier for your benefit. Every dollar counts these days, and once again, even as new kids on the block, we deliver when and where it matters most!
Dussek is quietly becoming a force in the region, producing supremely spectacular fruit that punches way above its weight class. This is heavyweight juice that dances at a featherweight price, but surely delivers haymakers of flavor and power with every sip. Ripe in style, a bright core of raspberry and plum preserves come out swinging, and throw in stinging jabs of mineral-laced notes of roasted toffee that hit the palate with precise aim and focus. Chalky minerals provide depth and backbone, with a big finish loaded with fruit, spice and crushed rocks that'll leave your palate knocked out in the best of ways.
We aim to find the diamonds in the rough so you don't have to, and at $20, we're not sure there's a better under-the-radar Cab find from the west coast.
Listen for the bell and come out swinging!