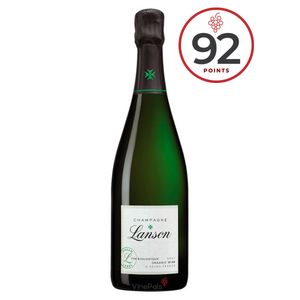 Lanson Champagne Brut Green Label NV
Regular price
Sale price
$65
---
Lanson's organically grown "Green Label" is absolute bubble perfection in the glass for a price that'll have you seeing stars in the glass. 
It seems that bubbles have become all the rage lately, but not all bubbles are created equal. Lovers of Veuve, Perrier Jouet and wines of that ilk need to pay full attention here, if only because this first release is a sparkling maiden voyage that you have to taste to believe!
This exceptional blend of Pinot Noir, Pinot Meunier, and Chardonnay has something for everybody, and because of this sensational melange of grapes, a symphony of flavors bound out of the glass and continues to evolve as time goes on. Bright notes of cherry, pomegranate, lemon zest, brioche, white smoke, ripe pear, and fresh apples drip with an acid-laced energy that'll have your palate dizzy with delight.
What's truly amazing about this wine is the balance. It's filled with nerve, energy and acidity, yet also has opulent waves of fruit making it anything but one dimensional. It's a Lanson signature offering of the highest order, and an absolute must if you crave bubbles in every way, shape, and form. 
We love bubbles, and anytime they find their way into our office, we can't help but open some and sip on it with supreme sophistication in mind. There's just something special about drinking great Champagne, and here's another stellar bottle to whet your whistle and help you contemplate all the questions the universe has to offer.
It will only evolve and come into its own even more with time in the bottle, and if you can wait that long, you'll be handsomely rewarded. Most of the base wine comes from the heralded 2012 vintage, so you know there's something special inside this bottle.
Pop a few bottles and prepare to bubble over with excitement.
John Gilman

The new Lanson 'Green Label' non-vintage Brut is the first wine from this fine Champagne house made entirely from organically-farmed grapes certified by Eco-Cert. This is an important and very laudable step from Lanson and I was very happy to find the wine absolutely superb. The wine hails from eight hectares of vines that Lanson bought from LeClerc-Briant when the proprietor of this house passed away in 2010, and which had been farmed biodynamically for several years prior to the sale. The cépages here is a bit different from the Black Label bottling, as the blend is made up of fifty percent pinot noir, thirty percent pinot meunier and twenty percent chardonnay. The new release was disgorged in March of 2018 and is from the superb base year of 2012; it was finished with a dosage of nine grams per liter. The wine offers up a complex nose of white peach, chalky soil tones, patissière, a touch of smokiness and a lovely, gently floral topnote from the high percentage of pinot meunier in the blend. On the palate the wine is crisp, full and focused, with a very good core, refined mousse and very good length and grip on the vibrant and wide open finish. The extended period aging sur latte has allowed the wine to blossom beautifully and this is drinking with bounce and generosity today. Fine juice.


Wine Advocate

Lanson's NV Green Label Brut is the house's first organically--even biodynamically--farmed Champagne and is certified by several European labels, including Ecocert and Agriculture Biologique (AB). The blend of 50% Pinot Noir, 20% Chardonnay and 30% Pinot Meunier is exclusively sourced from an estate vineyard at Verneuil, in the heart of the Marne Valley. The intensely straw-yellow colored wine shows a nicely clear, fresh and aromatic yet delicate bouquet with flowery, brioche and some nutty aromas of ripe white fruits such as pears and apples along with some lemon notes. The palate is lean, light but intense, dry, fresh and elegant and is provided with ripe, well-textured fruit, good structure and stimulating citrus flavors in the persistent finish. This is a characterful new entry into the Lanson portfolio and indeed more than just greenwashing. It's great as an aperitif and with white fish. Aged for three years, it was disgorged in October 2017 with a dosage of eight grams.
Wine & Spirits
In 2010, Lanson purchased 32 acres in Verneuil from Leclerc Briant, which had farmed the parcels under biodynamics since 2002. Lanson has since added ten acres in Verneuil to the property they call Domaine de la Malmaison. The vineyards are organically certified, providing the fruit for Lanson's new Green Label. This first release is rich and direct, presenting its clean red-cherry flavors with a perfumed, floral lemon note to the acidity. A touch of smoky lees adds toastiness to the finish--a classical aperitif Champagne with an organic pedigree.
Wine Enthusiast
Made from organically grown grapes (hence Green Label), this wine is very much in the crisp Lanson style. The rich character is tensely textured, full of tight minerality as well as green fruits and wonderful final acidity.