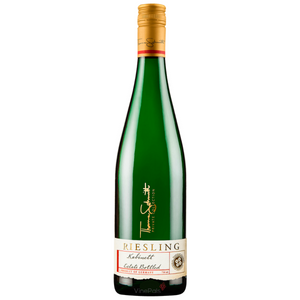 Thomas Schmitt Riesling Kabinett Private Collection Mosel 2020
Regular price
Sale price
$24
---
SOLD OUT! 
(App Users 👇 Tap "Notify Me" Button)
If we can find more, we will let you know.
or

👈 Browse the
Bottle Shop
for similar deals!


A true diamond in the Mosel rough, the Schmitt Söhne winery has never lost sight of its focus to produce first class quality wines. They put a premium on both balance and value, delivering amazing wines that highlight the special terroir of the region and manage to keep their pricing at a point that's accessible for all.

How lovely indeed.
One of the leading exporters of German wine, their commitment to quality is unmistakable, and they continue to evolve with the times producing exceptionally crafted Riesling from the Motherland.
Grown on mineral-laden soils on the deep slopes of their Mosel Valley estate, the fruit rooted in this western exposed hillside benefits from long days in the sun, yet still possesses all the tension and energy one craves from Riesling done right.
Over 200 years ago, the Schmitt family descended on the small village of Longuich on the Mosel river, and the rest, as they say, is history. Ever since, they've been churning out superlative wines that punch way above their price tag, and harness the true spirit of this famed region. Now with the 5th generation in charge, they've set a course for the top of the mountain, and their trajectory is peaking when it matters most.
Lively and energetic with just a hint of sweetness, notes of lemon oil, poached pear, white stones, wild herbs, petrol, apricots, yellow peach and freshly cut flowers permeate the senses with ease, and envelope the palate in a viscous blanket of liquid delight that pairs perfectly well with life. The finish plays to the wine's strengths, reinforcing layers of fruit, wet stones, and keen acidity that keeps you coming back for more.
An absolute dream on the palate for those who seek out the liquid gold that hails from the Mosel.
How does one say eureka in German?
Pop a bottle and find out.