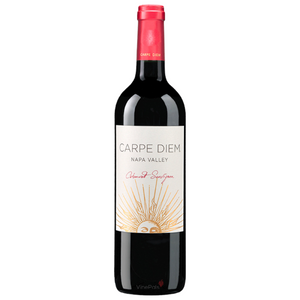 Carpe Diem Cabernet Sauvignon Napa Valley 2019
Regular price
Sale price
$44
---
Seize the day.
Or in this case, seize the Cab!
Carpe Diem landed on the scene about a decade ago. Its entrance was very much like its style; focused and precise with not a lot of fanfare, but has always been a relevant player in the mix when looking for value-driven Napa Valley Cabernet.
This is as value-oriented a Napa Cab as you're gonna find.
Anywhere!
Christian Mouiex and his Dominus winemaking team (yes, that Christian Mouiex and Dominus) have brought their talents to the table, and have found a way to deliver exceptional Napa Cabernet for a price most people can only dream of producing.
It's good to have friends in the know, and Christian & Co. sure do know where the great fruit hides and how to get it for a pittance. It also happens to be vinified by the illustrious team at Roederer in Anderson Valley, so now we've got two stellar teams with their hands in the mix!
The richness of California meets the elegance of France is this gorgeous 2019 rendition that's primed for the taking. Classically balanced and rooted in tradition, the combination of red fruits, gravel, salinity, herbs, cassis, and bakers chocolate make for a truly sensational Napa Cabernet made by one of Napa and Bordeaux's legendary names.
You think Christian Moueix is gonna risk his reputation and make bad juice?
You're right if you said no, and Carpe Diem is the perfect answer for those who love Cabernet but simply don't want to drop excessive amounts of cash to prove it.
Great wine comes from great fruit made by the hands of great teams.
And Carpe Diem is just that.
Seize this wine.
Now!
Wine Enthusiast


Gravelly rock, sea spray and iodine accent a full-bodied expression of texture and structure in this well-made, value-minded wine. Red currant, cassis and dried herb add to the overall earthiness and grace.