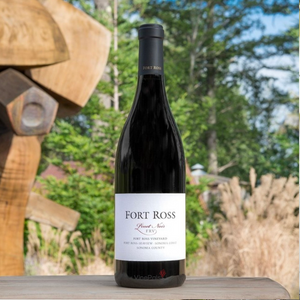 Fort Ross Pinot Noir Fort Ross Vineyard Sonoma Coast 2018
Regular price
Sale price
$45
---
Talk about the true Sonoma Coast.


Fort Ross Vineyards was the original landscape for this famed appellation, and the wine that comes from their home vineyard is nothing short of spectacular.
Overlooking the Pacific Ocean, the winery and vineyard are nestled into the ridgeline, with the blue waters of the Pacific just a mile below.
If you're ever there, look out versus down… it's quite the drop if you ask us!
This is the True Sonoma Coast, and the vineyard is one of, if not the closest, to the water's edge of any vineyard in the surrounding area, and quite possibly, all of California. The vineyard sits perched above the coastal fog, basking in the glow of the California sun, and happens to be the perfect place for world class Pinot Noir and Chardonnay.
Their 2018 Pinot Noir has made quite the splash, and was even voted best Pinot of 2021 by Wine & Spirits Magazine (which is no easy task!). 
Beautifully integrated aromas of wild raspberries, Bing cherries, fresh cranberries, black tea, currants, red plums, pomegranates, salinity, savory herbs and hints of cloves all come together in one fabulous liquid concoction that's too good to pass up.
Delicious, scrumptious, satisfying are just a few words that leap out of our mouths as soon as we've swallowed this amazing juice. And there's plenty more superlatives we can think of, but we'd like you to come up with some for yourself. Fine grained tannins add minerality and structure, showcasing a signature style that can only come from vineyards that sit on the edge of the world.
A fabulous Pinot Noir for those who seek out the greatest… no matter what cliff it happens to reside on!
Wine &Spirits


Jeff Pisoni makes this wine for Lester and Linda Schwartz, at the 52-acre vineyard they planted in the 1990s. The elevations range from 1,200 to 1,700 feet on a ridge one mile from the Pacific, the kind of marginal site that excelled in the long, cool vintage of 2018, a season without heat spikes. The cold of the coast and the warmth of the sun generated a pinot noir with transparent red berry flavors and mineral brilliance to the darker tannins, their edges seeming to glint with facets of fruit complexity, reflecting black currants at the underside of ripeness against the brighter, zesty red-fruit flavor. Delicious now with duck rillettes, this is also suited to cellar time. Points Year's Best US Pinot Noir (2021).