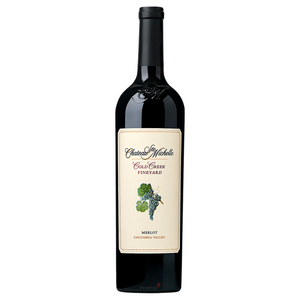 Chateau Ste. Michelle Merlot Cold Creek Vineyard Columbia Valley 2014
Regular price
Sale price
$35
---
 SOLD OUT! 
(App Users 👇 Tap "Notify Me" Button)
If we can find more, we will let you know.
or

👈 Browse the
Bottle Shop
for similar deals!
Merlot is making a comeback.


And it's about time!
Merlot is beautiful. Honestly, it's one of our favorite grapes hands down, and if it wasn't for Paul Giamatti's infamous rant in Sideways, the grape wouldn't have been unnecessarily put in detention for the last 20 years.
Well let's flip the script, shall we?
You can't write the history of the world of wine without Merlot. Between Bordeaux, California, Washington, and basically every other grape growing region on the planet, Merlot has been a mainstay in the landscape since the beginning.
Since 2004, Merlot has been put in the penalty box for no reason. Cabernet Sauvignon and Pinot somehow took the spotlight, yet Merlot has quietly continued to be relevant even without you knowing, and happens to still be the most planted grape on the planet.
Yes… you heard that right. You've been drinking Merlot this whole time. It's basically in every blend produced thanks to its high yields, lush texture, and inexpensive price.
It's everyone's secret weapon.
But sometimes, great producers let it stand on its own, and boy do we absolutely love when that happens.
One of Columbia Valley's oldest and most acclaimed vineyards has delivered a true gem.
The 2014 from Chateau Ste Michelle Cold Creek Vineyard is the perfect example, as 45-year-old vines deliver concentrated juice that apologizes for nothing and will surely convert you after a few sips. Lush, dark black fruits, spice, leather, forest floor, layers of nuance and almost a decade of age showcase just how great Merlot can be in the right hands. 
Fabulous pedigreed juice for a price too good to be true. 
Drink up!