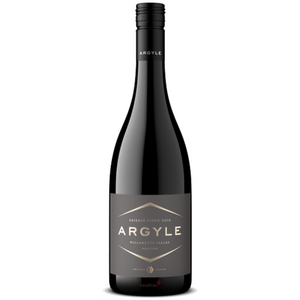 Argyle Pinot Noir Reserve Artisan Series Willamette Valley 2021
Regular price
Sale price
$45
---
Classic Willamette Valley Pinot Noir from one of the region's best!
Winemaker Rollin Soles and viticulturist Allen Holsten make quite the formidable duo. Twenty five years ago, these two talents took the reins at Argyle and began making wine in Oregon's infamous Willamette Valley. 
To say the ride has been amazing is an understatement of the highest order.
Eleven Top 100 Wine Spectator designations later (more than any other winery in Oregon), Argyle has become one of the most respected and prodigious producers of well crafted wine that Oregon has ever seen.
The 2021 Reserve Artisan Series highlights the unique terroir of the region with the style these two aforementioned juggernauts have made their calling card.
Classic Oregon in all the right ways, this offering gets its fruit from some of Willamette Valley's most revered vineyard sites. Dark fruits, wet earth, forest floor, truffle and rounded edges deliver a polished and pristine garnet jewel from one of Pinot's most glamorous neighborhoods. A silky texture and round finish leaves little to be desired, delivering a wine that checks all the Pinot boxes with ease and keeps you coming back for more. 
Small batch wine aged in beautiful French oak, this is wine born at the peak of beauty and ripeness, with an underlying energy and soul that is unmistakably Oregon. 
We absolutely adore wines from the Willamette this time of year, as there's something about Fall that makes us crave Pinot Noir from dense forests enshrouded in fog. There's just something about the vibe of the Willamette Valley that seems to make it all work, and once you pop the cork, you'll understand exactly what we're talking about.
Fabulous juice from the Willamette Valley duo that's had their finger on the pulse since the very beginning.
Come and get it!