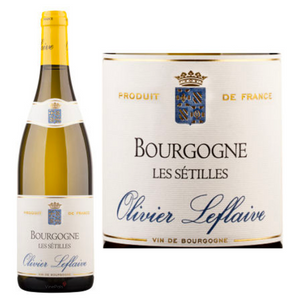 Olivier Leflaive Bourgogne Chardonnay Les Sétilles 2020
Regular price
Sale price
$43
---
 SOLD OUT! 
(App Users 👇 Tap "Notify Me" Button)
If we can find more, we will let you know.
or
Browse the Bottle Shop for similar deals!


There is white Burgundy.
And then there is Olivier Leflaive.
A name synonymous with Burgundian royalty, the minute we had the chance to snag some of this exceptional elixir, we just had to get it for you.
A producer with deep roots throughout the region, Olivier Leflaive has managed to garner some serious attention over the years thanks to vinifying wine from some of Burgundy's most hallowed plots. Though they call the village of Puligny home, they have roots down everywhere, and continue to showcase their talents through supreme winemaking prowess and a unique ability to get the most of the fruit they work with.
The 2020 Les Sétilles is a shining example of these talents. 2020 was a superb vintage, and this fruit traditionally hails from some of the area's most coveted vineyards for Chardonnay. The result is a perfect offering of white Burgundy brilliance that over delivers on the palate, and rivals wines from this area that go for 2-3 times this bottle.
Aromas of white flowers, ripe peach, toasted almond, lemon peel, chalk, oyster shells and hits of smoke all bound out of the glass, only to be met with a fresh and lively mouthful of fruit and rocks. The finish is powerful and generous, lingering on the senses in the best of ways. 
It's perfect entry-level white Burgundy from one of the producers that does it best.
Sommeliers, wine buyers and collectors all clamor for anything that comes out of the Leflaive cellar, and those of us who know will always fight to get our hands on Les Sétilles. It's not that we don't love the more expensive wines. 
It's simply that why spend the money if you don't have to. 
Also, Leflaive's more expensive options deserve and need time in the cellar, and let's be honest, we don't have much patience to wait.
And neither do you when it comes to wines like this!
Olivier Leflaive and the 2020 vintage.
Click "ADD TO CART" and enjoy the ride.