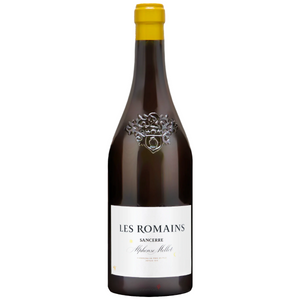 Alphonse Mellot Sancerre Les Romains 2017
Regular price
Sale price
$59
---
 SOLD OUT! 
(App Users 👇 Tap "Notify Me" Button)
If we can find more, we will let you know.
or

👈 Browse the
Bottle Shop
for similar deals!


There's Sauvignon Blanc.
And then there's Sancerre.
Alphonse Mellot Sancerre to be exact.
You should just skip to the bottom and grab some now before it's too late.
Sancerre is a one-of-a-kind landscape. An isolated hill that rises up in the middle of the Loire Valley's serene landscape, it finds itself perched on the south-western slopes of the hill, with vineyards that exist anywhere from 1,000 to 3,600 feet above sea level.
And its rocky mountainous underbelly is composed of all flint.
The Mellot family legacy dates back to the Sancerre's early 1500s, and Cêsar Mellot was even appointed as Wine Advisor to Louis XIV in 1698. One could say the history of Sancerre couldn't be written without the Mellot family, and we'd tend to agree 1000%.
The 2017 Les Romains is one of those wines that we could wax poetic on and on for ages, but the bottle would be done by then, and no one really wants us to waste that much time when the decision is this easy.
So let's get down to business, shall we? 
Texturally epic from first sip to last, this is exactly why Sauvignon Blanc matters. 
Bright and energetic layers of lemon, grapefruit pith, lime, white peach, crunchy energy and that trademark white smoke of the region are all on full display, making for a truly sublime glass of Sancerre that is simply perfect. 
Great single vineyard Sancerre at an absolutely exceptional price.
You can thank us later.
Wine Enthusiast
Named after the Roman road that led down to the Loire river crossing, this vineyard is one of the top sites of Sancerre. This wine is balanced, with layers of white fruits as well as touches of lime and a strong taut texture. Drink this wine now. Organic and biodynamic.