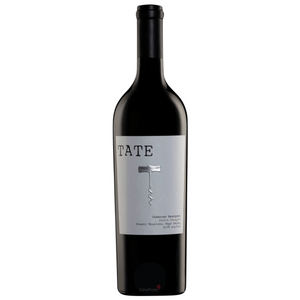 Tate Wine Cabernet Sauvignon Jack's Vineyard Napa Valley 2017
Regular price
Sale price
$150
---
SOLD OUT! 
(App Users 👇 Tap "Notify Me" Button)
If we can find more, we will let you know.
or
Browse the Bottle Shop for similar deals!
100 cases of single vineyard Howell Mountain Cab.
That's all that was produced.
Truly amazing if you ask us, but given David Tate's pedigree, we know this is one you're gonna want to get your fangs into.
David and his wife Suzanne established TATE in 2011, with the idea of producing single expression wines from micro-vineyards across the valley floor and mountainsides of Napa Valley. David also happens to be the GM of Barnett Vineyards since 2007, and was the assistant winemaker at Ridge for five years at the famed Montebello in the Santa Cruz Mountains.
The 2017 Jack's Vineyard is as pure of a mountain wine as you're gonna find. A single-acre Cabernet Sauvignon vineyard near the top of Howell Mountain at 1700 feet, and if you throw in the fact that they only made four barrels, well, you know you've got something special on your hands. 
Deep purple in the glass, the wine is intensely aromatic, with notes of black raspberries, truffles, Acai berries, fresh plums, roasted coffee beans and hints of anise all permeating the ether once you pop the cork. The palate is rich and thunderous, with dusty cocoa nib tannins that have become synonymous with wines from the Howell Mountain AVA. Hints of spiced vanilla bean, eucalyptus, and dark berries round out the finish, which lingers on the palate for quite some time like all great mountain wines do. 
Make no mistake, the wine is big, but has a soft plushness that is different from other years, making it considerably more accessible in its youth than other wines from the depths of the misty mountain tops. 
So let's get this straight. Single Vineyard Howell Mountain Cab. Check! 100 cases. Check! Ridge & Barnett pedigree. Check! 
Check mate is more like it!