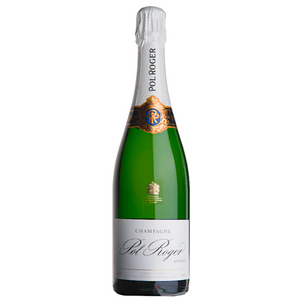 Pol Roger Brut Reserve NV (750ml)
Regular price
Sale price
$74
---
Simply the best!


That's what Pol Roger has been since it began.
One of the few luxury Champagne houses still family owned, Pol Roger is truly synonymous with greatness.
Established in Epernay in 1849, they own 200 acres of vineyards, which provide 45% of their fruit needs, and source the other 50-55% from relationships they've had for generations. Their cellars extend over 4 miles of winding pathways on two levels. The deeper cellar, which they happen to keep one degree lower than the one, is kept one degree lower than the upper, which encourages finer mousse (bubbles) in their cuvées.
Talk about supreme attention to detail.
Pol Roger Champagne spends two to three times the allowable minimum in the cellar before disgorgement, promoting long, slow maturation which contributes to powerful, complex aromas, which are a distinguishing factor in these Champagnes.
The Brut Reserve blend is usually composed of 30-35-% still base wines from various sites, grape varieties, and vintages. It always contains wines of at least 2 vintages, but usually finds 3-4 in the final blend, and reserve wines comprise 20-30% of the traditional blend. And most importantly, the Brut Reserve is never sold until the youngest component is at least 3 years old. 
As we said, the devil is in the details.
And now onto the best part… what lies inside the bottle.
A true golden goddess, these are fine beaded bubbles in the best of ways. White flowers, toasty aromas of biscuit and hazelnuts, citrus-laced complexity, and crunchy minerals, all finishing crystal clean and pure in complete harmony.
Absolute perfection in the glass.
It's time to celebrate and you're invited to the party!
Decanter
Richly biscuity on the nose, with steamed rice, fresh pear and citrus blossom complexity. Creamy mousse dissolves into red apple peel, lemon and stone fruits, with a depth of honeyed biscuits. The Reserve NV from Pol Roger is a blend of base wines from at least three vintages. With 6 months of post-disgorgement ageing, the wine is ready to enjoy now.
James Suckling


A layered and complex Champagne with pie crust, lemon peel, dried apple, pineapple tart and subtle spice notes. Sleek bubbles. Creamy and delicious. Drink now.
Wine Advocate


The current release of Pol Roger's NV Brut Réserve is quite dramatic, bursting with aromas of mandarin oil, honeycomb, elderflower, fresh bread and musky peach. Medium to full-bodied, fleshy and enveloping, it's generous and textural, with a rich core of fruit, lively acids and a pillowy mousse.