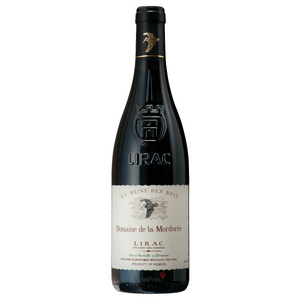 Domaine Mordoree Lirac La Reine des Bois 2019
Regular price
Sale price
$50
---
 SOLD OUT! 
(App Users 👇 Tap "Notify Me" Button)
If we can find more, we will let you know.
or

👈 Browse the
Bottle Shop
for similar deals!

Does anyone know where Lirac is?


If not, it's time to
sit up and take notice,
'cuz we're telling it like it is.


Lirac is a region in the southern Rhöne, and for those that crave Châteaueuf-du-Pape but don't want to pay the extra price, Lirac is the answer to your CDP problems.
Just a few years ago, Lirac was a blip on the Rhöne radar. But thanks to the price of fruit going up combined with a global pandemic that has sent import prices soaring, Lirac has now become the best friend for those seeking CDP greatness at a fraction of the price.
And for those who need to find their new favorite producer, look no further than Domaine de la Mordoree.
Located at the crossroads of Provence and Languedoc, Domaine de la Mordoree is a name you're gonna want to know and keep in your cellar for quite some time. First created in 1886, the winery has always been committed to making the best wines possible from the best vineyards they could access. Not a horrible recipe for greatness if you ask us, and those who need great Rhöne wines in their life need to take heed of our message.
The wines are brilliant!
The 2019 La Reine des Bois, (translated the Queen of the Woods), has staked her claim as the new leader of the region. Dense and dark layers of blueberries, raspberries, blackberries, violets, roasted coffee, underbrush, and river stones deliver a full-bodied offering that is simply exotic beyond words, and is sure to have you ruling the roost of whatever domain you choose to imbibe this is.
Your friends will marvel at your ability to discover new territories, while drinking in the spoils of your victory. And admittedly, we're willing to let you have the credit, because we've always said that we want you to win. 
After all, we are your loyal subjects.
So roll out the red carpet, fire up the 12-gun salute, and begin the coronation.
Long live the Queen.
Tasting Panel
This blend of Syrah, Grenache, and Mourvèdre grows on 40-year-old vines among the famous galets roulés—large stone pebbles—marking this part of the Rhône's sand and clay soils. While 10% is fermented in used casks, 90% of the wine goes into stainless steel. The result is a garden of heather and sage along with chocolate mint, charcuterie, and anise. Its prowess shows in its red-fruit aromas, elegant mouthfeel, and freshness on the palate.
James Suckling
Stunningly fresh and pure forest-berry and herb aromas pour from the glass of this rich, yet beautifully proportioned Lirac. Beautiful integration of tannin, fruit and alcohol on the full yet silky and fresh palate. Long, velvety finish that pulls you back for more. From organically grown grapes. Drink or hold.