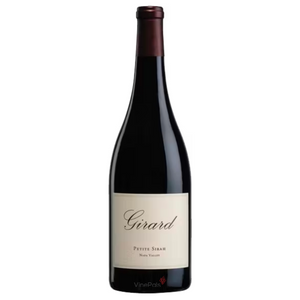 Girard Petite Sirah Napa Valley 2019
Regular price
Sale price
$35
---
 SOLD OUT! 
(App Users 👇 Tap "Notify Me" Button)
If we can find more, we will let you know.
or

👈 Browse the
Bottle Shop
for similar deals!
Pedigreed Napa Valley Petite Sirah for the win!
We thought you'd never ask!
For the past 40+ years, Girard has been at the forefront of producing spectacular wines with Napa Valley as the focus of the conversation. They've been doing this for quite some time, and their long lasting relationships with growers throughout the AVA is their key to vinous success.
Winemaker Glenn Hugo has been around the Napa Valley for awhile, and after stints in the barrel room for Marco DiGiulio at Bounty Hunter, Tom Rinaldi at Provenance Vineyards, as well as a stint at Fleury Estates, Glenn puts 110% of himself into everything he does, and after 10 years at the helm of Girard, continues to produce wines of exceptional character, purity and distinction.
Petite Sirah is harder and harder to come by these days, but it's around if you know where to look, and Girard's offering consistently punches way above its price tag and has somewhat of a cult following. After all, when you only produce 500 cases of it per year, it's no surprise that it flies off the shelves.
The 2019 possesses heady aromas of brambly fruits, red raspberries, black plums, cigar box, blackberry cobbler, spiced vanilla, and dried tobacco make for a beastly offering ripe with flavor. Unctuous on the palate, the tannins are bold and formidable, leading to a lingering finish that canvases the palate with ease.
The sheer hedonistic nature of this Petite Sirah has us licking our chops just penning this missive, and it's no surprise we absolutely adore Girard's 2019 rendition given their pedigree in Napa Valley and the heralded nature of the vintage. Supremely concentrated with a keen energetic acidity, this is a splendid offering from a producer that knows what the people want and consistently gives it to them!
91 points from James Suckling is just a bonus, reinforcing the greatness inside the bottle is there for the taking! Fabulous juice at a sensational price.
Say yes to Girard and don't look back!
James Suckling


Aromas of baked plum, blackcurrant, blackberry and tobacco. Full-bodied with soft tannins. Rich palate of black fruit with a lifting note of dried citrus. Drink now.