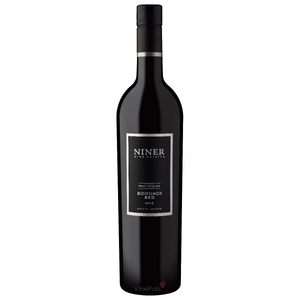 Niner Paso Robles Bootjack Red Blend 2018
Regular price
Sale price
$30
---
Don't worry… we're not calling from a walkie talkie.

But we are sending a serious transmission so that you can feast your eyes and lips on Niner's 2018 Bootjack Red Blend!
Niner has become a mainstay in Paso Robles for good reason. Since growing up in rural West Virginia, Richard Niner and his wife Pam decided to go all in on this special plot of land in 2001, and the rest is history.
They possess a true commitment to the land, and believe in the power and substance of Paso Robles, which is evident and showcased in every wine they make. And the vineyard this wine is named after is the main topic in this vinous story we're broadcasting to all who listen.
Bootjack Ranch was the Niner's original vineyard. Located in the Geneseo District of Paso Robles, this sprawling landscape is their oldest vineyard, and is planted to a mix of Cabernet, Cabernet Franc, Sangiovese, Malbec, Barbera, Petit Verdot, and Carménère. All of these grapes find their way into the Bootjack Red, and throw in a little fruit from Heart Hill, the Niner's other estate property, and you'll understand how treasured of a bottle this really is.
Bootjack Ranch was an old river bed, possessing two distinct soil types. Calcareous soils and rolling hills of sandy loam help create fruit that is vibrant and concentrated, with round tannins and plenty of natural acidity.
And wouldn't you know it… the 2018 Bootjack Red has all that and then some!
Dark blueberries, blackberries, dried lavender, loam, raspberry preserves, spiced cedar, and toffee make for a delectable and decadent offering that is pure hedonism on the palate. A big and rich finish leaves little to ponder, as this wine is big, bad and takes no prisoners.
You know the wine's gotta be good if they're gonna name it after their first piece of land, and it's no surprise this wine continues to get the nod from those who crave a big red without the big price tag. 
Pure Paso prowess with all the pedigree one could ask for. 
We just can't get enough and we know you won't either!