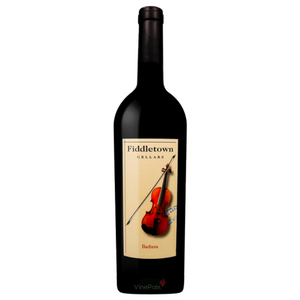 Fiddletown Cellars Barbera Amador County 2016
Regular price
Sale price
$29
---
Eureka!


Sierra Foothills Barbera from the town that helped give birth to the Gold Rush.
Fiddletown, one of the smallest AVAs in California, is a picturesque and sleepy town that was founded in or around 1849. It is located within the larger Sierra Foothills AVA, and sits perched at 1,800 feet above sea level. Its vineyards have the longest growing season in Amador County, allowing for maximum concentration and exceptional balance vintage after vintage.
Fiddletown Cellars, the small winery named after this tiny town, is one you need to know about, not only for their wine, but for the way they make it.
Between their insulated concrete structure rooted in energy efficiency, their own artisan well that gives them all their water, or the 10 kilowatt PV solar system and private wind turbine that gives them all their power, this small winery is doing big things in a region born from taking risks.
They only source fruit from organic farmers, and recycle everything… even the fruit pressings which get sent back to the respective vineyards to be used for organic compost. 
And don't look now, but they also happen to make outstanding Barbera that has serious staying power!.
Deep ruby in the glass with tinges of amethyst, energetic aromas of blackberries, currant, black plums, dried cherries, and mission figs erupt out of the glass, only to be matched by a racy and succulent palate full of red fruits, spiced tobacco, mocha, plums, and hints of oak. The palate is round and smooth, with mineral-laced tannins full of tension that can only come from fruit grown at altitude. 
Barbera is one of those grapes that we absolutely adore, and with the weather getting warmer, you're gonna find this grape popping up in new locations over the coming years. 
We have no doubt Fiddletown Cellars has set the stage for this stellar grape to make its mark, and their 2016 Barbera is one you're gonna want in your collection. 
There's gold in this bottle… dig in and experience the treasure for yourself!
Wine Enthusiast

This supple, layered wine has inviting balsam and raspberry aromas, generous berry flavors and a soothing, mild texture. It is medium bodied, easy to enjoy and should pair well with a wide range of foods.