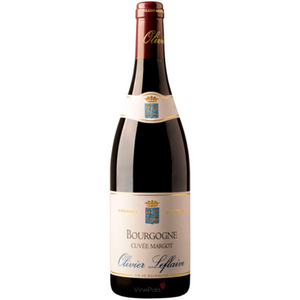 Olivier Leflaive Bourgogne Rouge Cuvee Margot 2019
Regular price
Sale price
$49
---
 SOLD OUT! 
(App Users 👇 Tap "Notify Me" Button)
If we can find more, we will let you know.
or

👈 Browse the
Bottle Shop
for similar deals!


2019 Red Burgundy anyone?

And not just any Burgundy.


Olivier Leflaive Burgundy to be exact!
The 2019 vintage was something truly spectacular in Burgundy, as ripe concentrated fruit was matched by beautifully harmonious acidity that has all the people chattering.
And rightfully so.
Every year in Burgundy is somehow amazing, but this vintage is one of those "not-to-be-missed" vintages, and Olivier Leflaive is always one of those "not-to-be-missed" producers.
Especially when it's Cuvee Margot, their Bourgogne Rouge sourced from some of the more esteemed plots throughout the region. 
Fantastically dynamic on the nose, a parade of lively red fruits like strawberries and raspberries dazzle as they hit the glass, with an array of crunchy minerals, fresh flowers, wet stone, hints of truffle, and vibrant electricity to follow. Sourced from a variety of terroir, most notably Pommard, this bottle exudes value in the best of ways, showcasing the talents in both the vineyard and the cellar from this masterful team.
The soils are a wonderful mix of limestone and clay, and the wine sees 20% new French oak, with some aged in stainless steel to preserve freshness, energy and nerve.
It's a truly spectacular value play for those craving old world excellence from the Motherland, and we're dialing in a superb offer that's too good to pass up.
Honestly, when we crave Pinot Noir, though we love the California vibe, our heart belongs to Burgundy, and we happen to adore this wine and everything it represents. Not all Burgundy has to break the bank… you just need to know where to look!
Come celebrate the 2019 vintage in all its glory and drink in the liquid love that Olivier Leflaive has to offer!