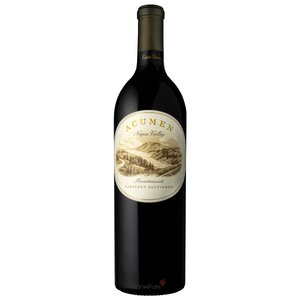 Acumen Mountainside Cabernet Sauvignon Napa Valley 2019
Regular price
Sale price
$69
---
Acumen has done it again!
Their 2019 Mountainside Cabernet is ripe for the taking, and even if you scour the interwebs, it seems we may be the very first place to have it. A fabulous vintage to boot, this is rich and concentrated juice from Napa Valley's eastern edge.
And we're gonna take care of you as always.
Lush and soft upon entry, layers of inviting black cherry, currants, sage, clove, caramel, roasted toffee, and wild blackberries all meld together effortlessly in this fabulous mountain Cab. Full-bodied on the mid-palate, the finish is round and smooth, with notes of spiced vanilla and sweet oak that linger on your lips.
Like always, Acumen continues to showcase that there can be great mountain Cab from Napa Valley without the hefty tariff. Sure you need to know where to look, but somehow, someway, these cats continue to put their money where their mouth is.
Original winemaker Denis Malbec (who cut his teeth at Chateau Latour) set the wheels in motion, the rest, as they say, is history. That's serious First Growth pedigree, and there's no way Denis would've committed himself to a project if he didn't feel it had the stuff to go the distance. Now, the esteemed Philip Titus has taken the reins, and the results continue to create shock and awe for all who get to sample his wares.
116 acres of pristine Atlas Peak hillside vineyards are what makes this wine so special, and Acumen's legacy continues to pay homage to Napa's past with an eye on the future.
Mountain fruit coaxed into living submission, there is plenty of force behind the curtain, but Titus has shown he can also tame the formidable beast of mountain tannins to ensure the drinking window starts right now should you choose to accept the adventure.
A truly exceptional Mountain Cabernet that's ready for the ascent.