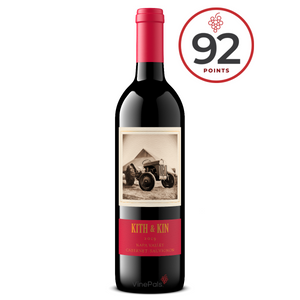 Kith & Kin Napa Valley Cabernet Sauvignon 2019
Regular price
Sale price
$39
---
Just when you thought you were out, we pulled you back in.
Round Pond has been highlighting the Rutherford landscape for over 40 years, with the second generation of the MacDonnell family now taking the reins. Pure and expressive Cabernet Sauvignons that epitomize the rich and bold opulence we crave from valley floor brilliance, while also staying true to their old-school roots.
After all, paying respect to your family through hard work is the name of the game around these parts.
There aren't as many second and third generation families still tilling the Napa Valley soil these days, as outsiders from far and wide are scooping up land and staking their claim for the future of California's vinous legacy.
But Round Pond is staying true to their roots, and Kith & Kin is a nod to the family lineage that matters most when push comes to shove. 
And you can taste it in the bottle!
Exotically complex, vibrant aromas of ripe figs, cola, dried violets, black plums, and blackberry cobbler lead into a succulent palate full of black cherries, cocoa powder, clove, spiced licorice, and vanilla, all wrapped in fine-grained tannins that round out this smooth and approachable Cabernet.
A great reminder that great producers are great producers for a reason. Round Pond consistently shines as a stand out winery from the heart of Rutherford, and it's no surprise this wine continues to take that legacy into the future.

Get in line, pay your respects, and welcome to the family.
Wine Spectator

Ripe and lush, but also fresh, with a very enticing beam of loganberry, açaí berry and raspberry fruit flavors driving through, flecked with anise and apple wood accents along the way. There's focused, juicy energy through the finish.



Tasting Panel
Dense and meaty, with an anise and roasted coffee backdrop. A parade of red and black fruit march around its upright structure. Finishes with a burnish of cinnamon cedar that keeps the palate satisfied.