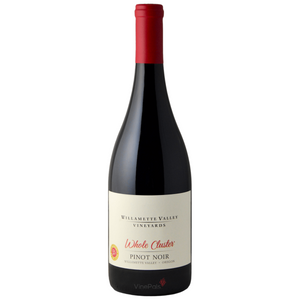 Willamette Valley Vineyards Willamette Valley Whole Cluster Pinot Noir 2021
Regular price
Sale price
$27
---
Wine Enthusiast calls them, "one of America's greatest Pinot producers."
That's high praise coming from one of the most recognized publications in the business.
But we'll take it one step further.
We'd argue you might not be able to write the history of Oregon wines without founder Jim Bernbau's bold vision.
Long before Bernbau founded Willamette Valley Vineyards in 1983, his father was hired to secure the first winery license in Oregon since Prohibition. 
Once that was handled, in 1983, Jim cleared away an old pioneer plum orchard in Salem Hills, and began to hand water his first plantings. Fast forward almost 30 years, and Willamette Valley Vineyards has not only become one of the region's most recognized growers, but has also helped mobilize the community at large, helping the Willamette Valley become a serious player in the world of Pinot Noir and wine in general. The winery's common (WVVI) and Preferred (WVVIP) are even traded on the NASDAQ.
Talk about progressive thinking!
They source all their Pinot Noir from its estate vineyards, all reinforced and guided by sustainable farming practices, and have championed that mission since their inception. 
The 2021 Willamette Valley Whole Cluster Pinot Noir is a pure expression of the appellation and vintage, as aromas of raspberries and strawberries mingle with exotic spice notes, wet earth, and truffle. The extra energy and lift comes from pressing the fruit as they're still bunched together, and the stems add structure for exquisite depth and exceptional personality. The palate is round, lush, and full-bodied, providing a sumptuous and smooth offering that is way too easy to drink. 
Trust us… our sample bottle didn't even make it once around the table.
Versatile and delicious, this is quintessential Willamette Pinot from the man who started the entire craze.
Tip your caps, pop the cork and savor history one sip at a time.