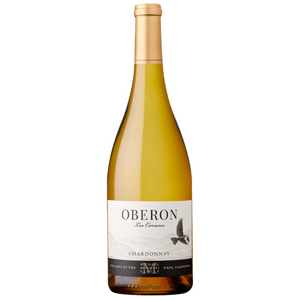 Oberon Carneros Chardonnay 2021
Regular price
Sale price
$25
---
 SOLD OUT! 
(App Users 👇 Tap "Notify Me" Button)
If we can find more, we will let you know.
or

👈 Browse the
Bottle Shop
for similar deals!
Carneros Chardonnay under $20! 
From the house of Michael Mondavi comes Oberon Chardonnay, a fabulous golden elixir from the cool climate of Carneros that typifies a side of Napa Valley Chardonnay that we absolutely adore!
Crisp and clean Chardonnay with a fruit-laden opulence and that salty air backbone is something that we don't see much of these days. It's either big and rich or lean and mean, and though we feel both of those styles have a place (and we happen to love those too!), there's something about Chardonnay with seductive tension and pristine fruit that just gets our mojo working.
Head winemaker Tony Coltrin has seen Napa Valley grow up right before his eyes. He was born and raised here, and has been in various winemaking positions throughout the region for 45 years. Throw in a unique web of grower relationships that he has known since childhood and it's no wonder he's got his finger on the pulse of where the great fruit resides.
With his Chardonnay focus rooted in the rolling hills of Carneros, this cool climate delivers all the goods one could want from crystalline Chardonnay that punches way above its price tag. 
Soft, round and ready to go, this is Chardonnay done right for those seeking stellar juice at an everyday price. Balanced layers of green and Fuji apples, poached pears, white flowers, and crème brûlée make for a scintillating experience in the glass, and we're willing to bet you'll see the bottom of the glass (or bottle) before you can say Oberon!
The wine sees 33% new French oak and sits on its lees for 9 months, adding texture, richness and depth beyond words for a wine at this price tag. It's perfect for any time of year, but we must say with Turkey Day around the corner, there's something about Napa Chardonnay and Thanksgiving that just makes our mouths water.
And let's be honest, with the Mondavi name on the bottle, you already know there's pedigree in spades once you pop the cork.
Classic California Chardonnay is just a click away…