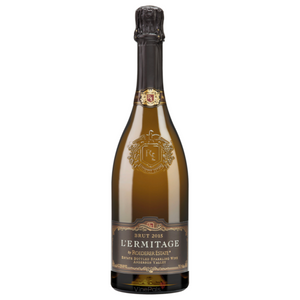 Roederer Estate L'Ermitage Anderson Valley 2015
Regular price
Sale price
$70
---
 SOLD OUT! 
(App Users 👇 Tap "Notify Me" Button)
If we can find more, we will let you know.
or

👈 Browse the
Bottle Shop
for similar deals!
California Sparkling love at your fingertips.
97-point California sparkling love to be exact!


Founded in 1982, Roederer Estate has found its home in the fog-drenched hills of the Anderson Valley AVA. As the California sister property of famed Champagne producer Louis Roederer, the estate builds upon centuries of tradition of fine winemaking rooted in two elements: complete ownership of its vineyards and the addition of oaked-reserve wines to add to each year's blends. The result is complex and harmonious wines that spotlight the unique terroir of the estate while channeling the true soul of the fruit that they take such  care in growing.
The crisp, fresh and vibrant flavors of Roederer Estate wines reflect the cool climate of the Anderson Valley and the 600 family-owned acres that meander through this fabulous locale of Mendocino County.
100% estate grown Chardonnay and Pinot Noir find their way into the bottle, and the blending team is made up of winemakers from both the California property as well as Champagne Louis Roderer, creating a bond and bridge to both properties that showcases itself in every bottle. Throw in the fact that it's produced from the exceptional 2015 vintage and we have a serious liquid conversation on our hands!
Fine bubbles and a neverending mousse are the trademark characteristics of the L'Ermitage cuvée, and once you pop the cork you'll understand exactly what we mean. Seductive aromas of hazelnuts, brioche, Bosc pear, baked apples, clove, and other sultry spices meld into a creamy mid-palate and texture that lingers on the finish for what seems like days. A classic offering in every way, this is truly a celebratory bottle for any special occasion, including Tuesday night on the couch simply because you feel like it.
Classic Champagne style and substance in one of California's finest sparkling sensations. 
Pop the cork… you can thank us later.


James Suckling
This is a powerful and dense sparkling wine that is first and foremost a classic-quality wine. And then you think about the bubbles. Full-bodied with lots of brioche, pie crust and bread dough. Great finish. Five years on the lees. 52% chardonnay and 48% pinot noir. Drink now
Wine Enthusiast
This grand, special-occasion wine is wonderfully complex and layered, but also powerful in the way its toasted walnut, Bosc pear and fresh bread flavors start out strong in the aroma and keep pumping on the palate and through a lingering finish. Nice and dry, tangy but mouth filling, it's a sophisticated indulgence. Best now to 2028.
Wine Spectator


Classically styled and expressively vibrant, this bubbly opens to flavors of baked apple, roasted hazelnut, clove, nutmeg and other spices. The finish fans out, building a lingering richness.