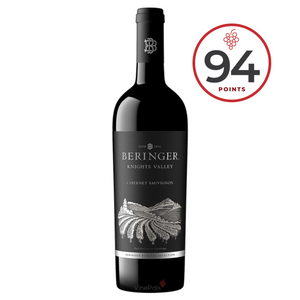 Beringer Knights Valley Cabernet Sauvignon 2019
Regular price
Sale price
$39
---
 SOLD OUT! 
(App Users 👇 Tap "Notify Me" Button)
If we can find more, we will let you know.
or
Browse the Bottle Shop for similar deals!
One of California's greatest value Cabernets is yours for the taking.
2019 Beringer Knights Valley Cabernet Sauvignon has landed!
If you don't know where Knights Valley is, travel northwest of Napa Valley and you'll find your way there. One of Sonoma's original five AVA's, Knights Valley is about 37,000 acres of wilderness magnificence with only 2,000 acres planted to grapes. It's the warmest AVA in Sonoma County, and has eerie similarities to its high-priced cousin directly south.
Beringer, one of California's oldest and most infamous wineries, has had roots down in Knights Valley for an eternity, and they continue to get every ounce of greatness from their fruit for this signature wine.
A crowd pleaser in every way imaginable, this is a beautiful Bordeaux blend with Cabernet driving the wagon. Rich and luscious notes of boysenberry, blackberry, cassis, wet minerals, ripe figs, cherry cola, black currants, cloves, mocha, lavender, sage, and spiced vanilla all meld together in a fabulous wine from a vintage dripping with concentration and intensity. Chewy and plush tannins round out this drinking experience, all backed by a lovely layer of acidity that lingers through the finish. 
Beringer is a name everyone knows, and people that have been making superb juice for generations deserve to be trusted. They've earned their respect, and they continue to produce exceptional wines that overdeliver year after year.
A powerful and satisfying wine, this is definitely the secret weapon in the Beringer arsenal, and you'd be crazy not to scoop some up while we have it. It has incredible aging potential as well, so if you're seeking out groovy juice that hits the price sweet spot while also having the ability to cellar with ease, you've come to the right place!
Big scores only add to the fun, and let's be honest… a 94 point score for a Cab under $40 is an absolute dream come true for those who crave classic Cab with serious substance.
Back up the truck and send reinforcements!