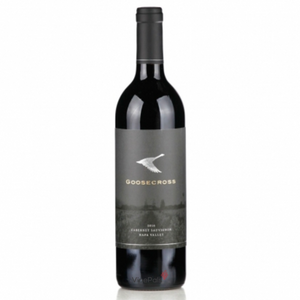 Goosecross Cellars Napa Valley Cabernet Sauvignon 2019
Regular price
Sale price
$55
---
 SOLD OUT! 
(App Users 👇 Tap "Notify Me" Button)
If we can find more, we will let you know.
or
👈 Browse the Bottle Shop 
for similar deals!
Care to play a friendly game of Duck, Duck, Goose with a Cabernet twist?
And don't worry because you don't have to get up from your seat.
We wouldn't want to tire you out before getting the good part.
Up until a few months ago, Goosecross Cellars was 100% Direct-to-Consumer. You couldn't get their wines unless you stumbled upon State Lane Road while cruising in or out of Yountville, and ended up lucky enough to make a wrong (or very right) turn at the intersection.
With neighbors like Paraduxx, Cliff Lede, Silver Oak, and Kapscandy, it's no wonder these birds of a feather produce superb juice from key vineyards throughout the Napa Valley that have serious credibility with those seeking out small wineries with big prowess..
At the helm of the winemaking program is the legendary Bill Nancarrow, who happened to spend a decade running the winemaking program at Duckhorn and Paraduxx. He helped the amazing wineries take flight in ways never thought possible, but like all good birds, Bill decided to leave the nest, and found himself attracted to Goosecross, a small upstart winery with a rarified plumage of vineyard access that was simply too good to pass up. 
We thought we'd help let them out of their cage for your enjoyment.
The 2019 Goosecross Napa Valley Cabernet is a liquid bird of prey that deserves a spot on your table. Opulent aromas of black fruits, warm earth, savory herbs, currant, spiced cedar, and freshly cut flowers take flight with ease, while a rich and decadent palate of black plums, mocha, cinnamon, and vanilla bean make for sensory lift off in the best of ways. Plush tannins round out the finish that make for an easy and pleasurable landing.
Napa Cab fans take note here… it's not every day these small wineries with big dreams fall out of the sky, and Goosecross will be a name that people will be talking about soon enough now that it's flown the coop.